Jonathan Worthington has opened the Comma IDE Early Supporter Program for business with a simple Tweet.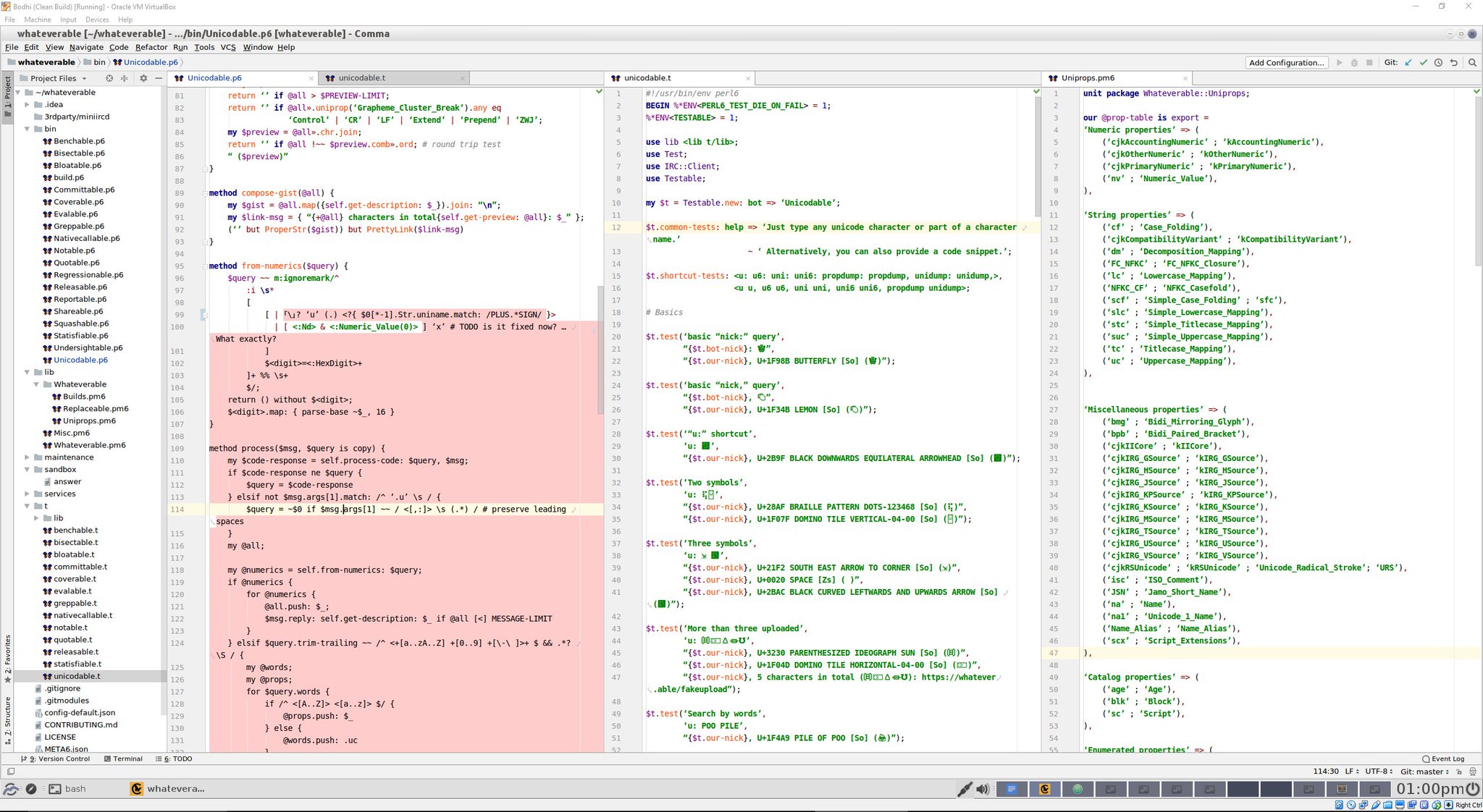 So if you're a fan of using IDE's, and you are or want to be working with Perl 6, now is your chance get this developer efficiency boost! (FaceBook and more FaceBook comments).
Closed For Business
After an 11-year run, Moritz Lenz has had to take the famous irclog.perlgeek.de website offline because of GDPR considerations, especially about the German implementation of them.
I'm sorry, but I had to shut down the IRC logs.

I have found no way to make public IRC logs compliant with the privacy policies enforced by the GDPR and its implementations.

The source code of the underlying software is still available from GitHub. Use it based on your own judgement and understanding of the law.

I'd like to thank all contributors, users and visitors for their support.
Hopefully we will be able to host this service somewhere else really soon. In the meantime, logs for some Perl 6 related channels can be found on colabti.org: #perl6, perl6-dev, #perl6-toolchain and #moarvm. Comments can be seen on /r/perl, /r/perl6, Hacker News and Twitter.
I think a BIG THANK YOU is in order for Moritz Lenz for this (and many other services) he has rendered to the Perl 6 community!
No European TPC Venue for 2019 yet
More Bad News. Thomas Klausner tells us that still no proposals to host The European Perl Conference in 2019. Please get working on your proposals and mail them to venue@yapceurope.org. Thank you in advance on behalf of all the current and future visitors!
JJ Merelo's Documentation Grant Completed
JJ Merelo has completed his work on the Perl 6 documentation repository. His work is visible and we're better for it. And he already has published a scientific report (Perl 6 documentation repository through time: dealing with issues) about it. Soon we should have the final grant report!
Squashathon Results
Last Saturday saw another Squashathon, this time focused on the Perl 6 bots. Among other improvements, all whateverable bots now support multifile gists. See the overview for more information.
Perl 6 Tutorials at TPCiSLC
There are still a few seats available at the Perl 6 tutorials at The Perl Conference in Salt Lake City (17 – 22 June 2018)!
Also be sure to check out the The Perl Conference 2018 Newsletter: 2 June 2018 by Irish Pebbles.
Call for Grant Proposals
The May 2018 Round of Grant Proposals will close on June 9th. Make sure you get your Grant Proposals in! Whether they are for Perl in general, Perl 5 or Perl 6. Let The Perl Foundation help you do great things for the community!
Blog Posts
Core Developments
Meanwhile on Twitter
Meanwhile on StackOverflow
Meanwhile on FaceBook
Meanwhile on perl6-users
Meanwhile on PerlMonks
Perl 6 in comments
Perl 6 modules
New Modules:
Updated Modules:
Winding Down
A very full, happy and a sad week. Hopefully next week only a full and happy week. See you then!